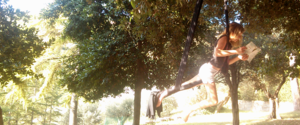 So … I am Amari,
I live in Italy and I am 11 years old I love dancing, swimming, drawing and writing but in the last few weeks I have been very into reading. When I sit down and start reading, I don't stop, you literally have to take the book away to get my attention !
I have been reading 'The Girl Who Walked on Air' and 'Frost Hallow Hale' which have both been written by EMMA CARROLL oh and I have also read 'The Invisible Girl', (not by the same author) I liked it but in my opinion it wasn't as good as the other two.
My favourite part of the story in the book 'The Girl Who Walked on Air' is when Louis and Gabriel are dancing on the boat.
So back to "a bit about my life" me, (my twin sister) Olive, Jahli, Dad and Mum have 7 cats including one we are looking after until are neighbour comes back.
Olive and Jahli and I go to circus on Tuesday and Thursday. My favourite things to do at circus are… I like all of it but if I had to choose 2 it would be well … I love cloud swing, I am not really sure if it is called cloud swing, it is sort of like a big scarf hanging from the roof or were ever you want to put it for instance we have one hanging from a tree!
Amari, bye for now.