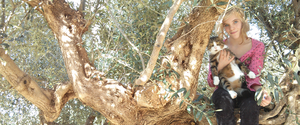 At home we have 7 cats but one of them we are looking after for our neighbour. But today I am going to tell you about Oscar, he has 3 legs and he can climb trees and run as fast as all the other cats. He is amazing!!!!
One day we were at our old home school, which was basically a place where all of our friends got together. There were classes going on and if we wanted to we could join in. If we didn't want to we did not have to.
Anyway one day 2 of the little girls in the school came in screaming saying the was  a cat with badly injured leg.
The teacher said there has not been a cat here for ages so it wasn't one of the schools cats.
We all went to have a look and the 2 little girls came with us to show us where he was. So then we found him, he had his fourth leg squashed it was gross. But he was purring.  Do you know cats also purr when they are in pain?
So we called the vet.  The vet said the cat could come in two days.
So one of the teacher took  him in to the vet. She left him there for a few days. The vet operated on the leg and took it off. Then after that the teacher asked if any one could look after him. My best friend was going to but her Mum said no, because they already had 10 cats and two dogs . So we said yes we will look after him and he was so lovely we kept him.
So now he is with us. Well right now at this precise moment 12 :11 he is getting carried down from our apartment,to are house in Amari's arms getting his ear itched. Because he doesn't have a leg he can not itch his ear.
Bye see you next time.