Hello again, it is Amari and I am going to tell you what I have been up to….. well… I have been doing lots of things but the thing I have worked on the most is my… sort of … model camper van/ plane/ car sort of thing. It is well, I have got small boxes and paper and tissue and lots of other things and made this…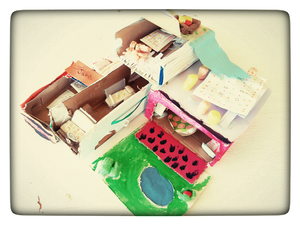 It has got 2 bedrooms, a garden, 1 guest room, a double bed attached to the side, where Mum and Dad sleep. (In the planet where this sort of thing exists it does not rain so they won't get wet) There is also a pool and an outside table.
So that is the house/car/camper van/plane!
This week I have also given my sister and I a makeover. I have done some painting, finished my model car and written a post as you already know! (I am not going to say the whole thing or we will still be here next week!)
Bye  Amari