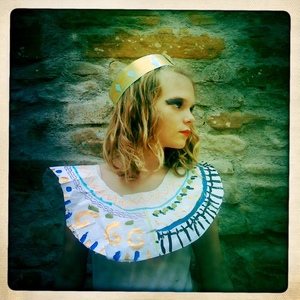 So this is me when I was learning about Cleopatra as you can see I dressed up as her.
Did you know that she killed both of her sisters?
Olive and I wanted to dress up. So we decided to play about with our hair. For some  inspiration Hattie our "work away" showed us
how to make our hair stand on end with a bottle. Hattie thought that we looked like the twins in Doc Suess, so we decided to dress up as them, as you can see.
I am Thing 1 and Olive is Thing 2 as you can see.
Here is a picture of me dressed up as a Georgian lady. Georgian ladies used to have lead in their make up and they used to accidently poison themselves. They also used to shave off their eyebrows and pencil on new ones. They used to cover up their pock marks and scratches and scars, with little black patches shaped as hearts, stars, circles, moons and once we saw a picture of a Georgian lady who had a horse and cart on her face!
By the way I didn't really feel like writing so I put pictures up instead.
bye from
Amari  bye again