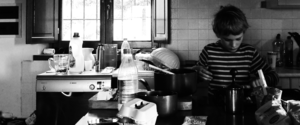 500 gm Gluten Free Flour
330gm Butter
1 Bar Chocolate
2 Eggs
180gm Demerara Sugar
This makes enough for 15 people.
Get the gluten free flour put it in a big bowl.
Melt the butter in a saucepan but not so much. And then once it is melted you put the flour in the saucepan with the butter. Then you get the chocolate and you put it in a bowl. Then you get a pan and you put water in it, not too much then you put the bowl with chocolate on top of it. You put it on the heat to melt and then put a teeny bit of butter with it. Once the chocolate is melted you mix with the rest of the ingredients.
Grease the pan but first put it in the oven to heat it whilst you are doing all of that stuff at the beginning you put it in the oven. So take it out then you get butter and you swipe it around for a second or something. Then you make your biscuits into circles or whatever shapes you want them to be. Then cook them for about 20mins then you are ready. If it is too buttery don't panic and don't do anything. That was a warning. Goodbye that's it for today byeee and I am done. Great well done!
Jahli
When we first made them we did a mistake and made them with gluten flour and no one could eat them, but I accidentally ate one and that made me feel bad.