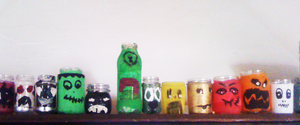 Hi again it is Amari. So I know it is Halloween In 3 days, well by the time I have posted this post it would of most likely of  passed but anyway… I would like to tell you how to make some fun things to decorate the place so…you could make some bats, a skeleton and scary jar monsters or well you could make Halloween costumes but I don't think you will be sticking them around the house!
So let's get started, to make a bat you will need: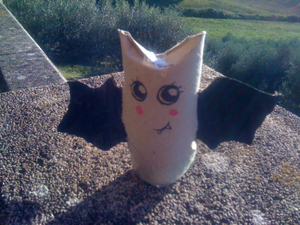 1 loo roll
Some tape
String or ribbon
A black pen
A glue stick
A black piece of card
And a pink pencil
How to make :
First get your loo roll and fold the top in to make it look like ears. Then get your black pen and draw on a face. Get your pink pen and draw on some pink cheeks. Once you have done that put it aside and get your card and cut out a pair of bat wings. Once you have done that fold these bits in and glue the back to the loo roll.
Attach the string with the cellotape and there you have it your home made bat!
Ok so you know how to make a bat I tell you how to make a skeleton
What you need :
A big bit of cardboard
A pencil black paint
Scissors
String
Cellotape
And a print out of a skeleton to copy
How to make :
Download a picture of a skeleton from the internet. Copy that.
Draw your skeleton onto the cardboard once you have done that go over it with the black paint and leave it to dry then cut it out attach your string and hang it up.
It is really quite easy but I guess it felt hard because we did each body piece on a different piece of cardboard and then we had to stick it all together!!!!
Ok now you have 2 things to decorate the house with but I still think having 3 things is hundred times better so the last thing (apart from the Halloween costume) is scary jar monsters! (as seen above!)
What you need :
Paint which ever colour you like.
A jar a candle
a lighter
and a bucket of water
How to make :
First get your jar and peel of the label if it doesn't come off soak it in the bucket of water and then try.
Once you have done that paint it which ever colour you like and leave it to dry. You will probably need more than one layer of paint, once you have done that paint on a scarey face and leave it to dry. When it is all dry and ready light your candle and put it inside, you may need help with lighting your candle! And there you have it a jar monster!
Costumes
I dressed up as a vampire
And I will tell how I made my costume
So… first I got a black dress and put it on. It had flowers at the top so I put a black top over it then I got a big bin liner and cut down the sides so it was like a black cover I then cut it at the top so now it looked like a pyramid. I put 2 holes at the top and threaded in some string and tied it round my neck then I got some card and painted it once it was dry I stapled it to my cape . I tied my hair in a bun put face paint on my face and 2 dots on my neck!
Bye Amari