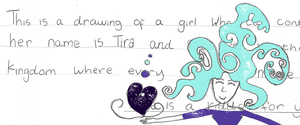 This is a drawing of a girl who can control water her name is Tira and she lives in the water Kingdom where everything is made of water.
Here is a riddel for you.
In the sumer it is liquid in the winter it is solid and at a certain time of the year you can light a fire on it. What is it?