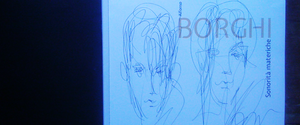 MY WEEK !!!
Hi I am Olive. A week ago my Granddad took us and our 'workaway' lady Dora to an opening of Alfonso Borghi's art exhibition in Perugia. It was nice.
We got one of his books and met him in person! He did not sign the books but rather drew a picture of you. My Granddad gave him a challenge and asked him to draw Amari and I. We are twins so it quite hard but he did it.
Tomorrow me and Amari are going to are going to one of our best friend's house for her birthday. We are going to sleep there and maybe go to the cinema. We are going to do all the girly things like paint our nails and do our hair and catch 20 guinee pigs it is going to be FUN!!!.
All morning we have been cleaning our rooms. Right now Dad is cooking lunch, Amari is drawing, I am writing my blog and Jahli is doing what Jahli's do. Mum is on her computer and Dora is drawing, bye.
Olive 🙂