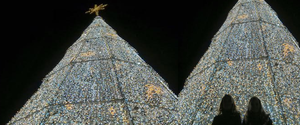 Hi it is Olive. I am going to tell you about our Christmas trees. I know you are thinking, I know about Christmas trees but I bet you don't know about our Christmas trees. Every year we have a different tree. When I was one, Mum and Dad were too tired to do one. When we were two we had a small tree made out of beads and wire, made by some African people.
When we were three, we got a ladder and wrapped lights and tinsel around it. It was fun. When I was four we made a metal sculpture out of wire. We papier mashé-ed it then Jackson Pollocked it. Then stuck the ball balls and tinsel and lights on with wire. When I was five we had the ladder (which you will see what it is later)
When I was six we got lots of reeds and put them in a big jar and wrapped lights around them and stuck paper on them. The light shone through it.
When I was seven we did the ladder one again.
When I was 8 we cut down a tree in the forest (that sounds horrible but we did, it was our friend's forrest and he let us) and decorated it. When I was 9 we got ribbon and at every inch we tied a sweet on it. We tied rocks on one of the ends and spaced them out and hung the other end up. We wrapped lights around it.
When I was 10 we did the same.
When I was 11 we got sticks and sprayed them silver and put them in a pot and added ball balls, light and tinsel.
Well I will tell you what I am going to do this year in my next blog!
Bye
Olive