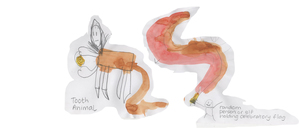 So you think a fairy comes and takes your teeth but actually a fairy can't pick up your teeth they are too heavy. A fairy comes on a dragon. It is the dragon that picks up your teeth with its legs. They take it to Fairy Land, who's name is Fairy Pairy Tiddly Tairy.
With the teeth they make houses and powder. The grind the teeth so fine that it is like salt and they put this on their food. They put the teeth through a machine, only the big teeth, then, when they come out the other side of the machine they make Teeth Animals. They have no flesh and blood they are walking skeletons.
But they are friendly.
Next time you put your tooth under a pillow, think before you do it.
A Story by Jahli