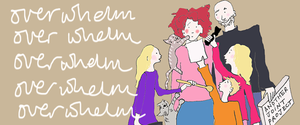 It has been a week where quite frankly packing the kids off to school may well have been a lovely thing. Getting out them out of the house at 7am getting them back around 2pm. Having the time to figure out the bills, the website, the laptop, the crowd funding project. Today has not been that day. There are days when it all seems to go wrong, even pairs of days..or weeks. We are having a pair of those weeks. I can't even blame the moon.
Last night as we drove home and the lights in the car blew, so we had to drive guiltily with our brights on, the whole way home.
This morning the toilets and the sinks in the house flowed over, as there was a blockage in the pipes.
Then a few days prior, my husband accidentally cooked his lap top, literally. That is his story, I won't steal his laptop story as I am sure he will write about it and I don't want to be a spoiler!
So today I am putting up a picture and not writing much as a picture seems more fitting than words.
Even with my head in my hands, I know I don't want our kids in school. I want my son to carry on doing his Bollywood rapid head rolling moves around the kitchen whilst trying really hard to sing 'Chaiya Chaiya' in Urdu. I want my girls to paint their nails all different colours and play hours and hours of monolopy then play tag as they say that they were having brain ache! I want those peals of laughter to ripple around the place. Even though we have no lights on the car, we are trying to get a huge project up and running and the toilet is over flowing I realise that even these moments are the rich lessons of life. Not always pretty but it is life doing it's thing.
And here for now is a Song from A Bollywood movie called 'Dil Se' this song is 'Chaiya Chaiya'  it has kept me smiling and like the performers who do the dance routines on a moving train I know that within all the chaos our wheels are safely on track.