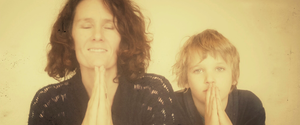 It is still a learning journey for me around this one, intellectually I know it but deep down I have to wrestle the control freak in me to the ground. The one that thinks, well as I like to go out and plant things, or do large paintings, or write books, or talk about novels, don't all my kids want to too? The truth is they don't, sometimes they do but often they don't, they are who they are and who they are is not me. So in wanting them to be like me it is a total dead end and not a good thing. It has been a journey, such a wake up call and in some ways such a relief. I am not them and they are not me. And it has also been an experience of letting go.
I realised the other day that I was getting very frustrated with my son, I wanted him to be outside, helping me do something in the garden, it was his Dad's birthday and I wanted to make a table pretty outside with flowers and a nice table cloth. There I was wanting him to come over to my world. Then I caught myself. Why would he want to do this, I thought and I honestly said 'Listen if you don't want to do this then you don't have to there is nothing worse than people making you do things you  don't want to do.' And he said 'I don't.' and walked away.
Admittedly that eeny weeny control freak in me may have been working a bit of reverse psychology there and I laughed at my actual struggle with trying to let things go. My heart can but my head still fights with wanting them to do the things that I love. I am clearly a work in progress but I think what I do have going for me is the fact that I can hear the control gremlins in me and I can nip them in the bud, mostly…
He wanted to be inside playing on Minecraft, making, building, creating, playing in a world that is all new to him. It is not my thing. He also loves to make paper weapons, I don't, he also loves comics that have shadowy looking characters, I guess like most Marvel comics do. I don't. We are different and I am learning that that is great.
I realized this when he was 5 and I took him to a local library and my heart skipped a beat as we raced towards the kids illustrated books section. I am an illustrator, I love illustrated books. I looked down to see that his small hand had slipped from mine and he was in the teen comics section. I knew then that we were different in the way that we experienced the world. When I accept that as Kahlil Gibran says about children that 'they are the sons and the daughters of life's longing for itself.' I have to catch myself in not trying to mold them in to smaller versions of us or me but rather celebrate who they are even when I am faced with something that leaves me totally lost. Like frying ice cubes, or helping dismantle an electric toaster. I am trying to find bridges which lead in to their worlds, and the exciting thing is in being open I think that I am learning a lot of things in this process too. Like how to know when to step away and how controlling I actually can be…
(in that picture above I asked him to do that pose, you see, outrageous!)
A snippet from 'Unschooing' you can pre-order your copy of the e book here.