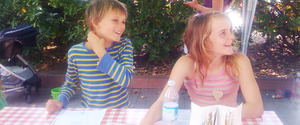 Our mechanic crashed our car prior to going to this unschooling/homeschooling event. Yes, you read that right. So the five of us were left with a very small 4 seater car which belonged to the garage. It wasn't great. But we got there. The girls took the train with Ant and I drove with Jahli. Things don't always go as planned.
Turning up in Rimini was like going to Blackpool in the height of summer. I had a sleeping boy in the back and due to the fact that my sat nav didn't work and nobody knew where the campsite was, I got to explore the streets of Rimini. Finally, I ended up going to the station to get Ant and the girls. I had planned to be there early and set up camp but it didn't work out that way. So we all squashed in the car and we found the campsite. With Ant at my side, everything, as always, seemed a bit more possible.
The campsite was full of families. All our friends from the alternative school were there, which was wonderful. There was also a train that ran through the campsite, which was not wonderful. It was near our tent. Trains are quite frequent on that line. I need say no more, you get it.
But we were there, at the BIGGEST UNSCHOOLING/HOMESCHOOLING event in Italy and it was great.
The kids all trouped around together, some helped put up the tent, we were all snuggled in then there was the hugest storm ever and we heard the infamous sound of dripping. So Ant and I moved into the kids' section of the tent and we slept with them.
The following morning, we met Sven Poppleman and his family from the lovely blog 'Wherever We Park is Home.' I knew they had a big camper van so I walked around until I found the only one with a UK number plate. I stood outside it like some strange stalker, to meet a bleary eyed Sven and Marissa and their two lovely kids. We had met online and I have been following their journey. To actually meet up with them, in the flesh, was great.
We met people from Colombia, the US, Canada, Germany and South Africa. And of course we met lovely Italians.
We camped next to a man who let his kids draw all over his car. In the picture below, his son had drawn the life cycle of a frog. In Italy, the man told me, the automobile is sacred. So he causes a lot of a stir when he pulls up at a place with dinosaurs and monsters drawn all over the car. But, he said to me, the main problem was this: When he met other families with children, the kids of other families would start asking their parents if they could draw all over the family car. It was funny to watch my friend's son with his marker pens merrily drawing away on the side of his silver motor.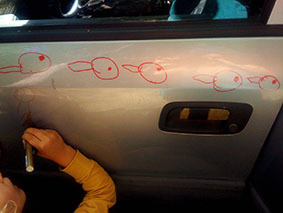 Things I have learnt from The S-Cool Unschooling and Homeschooling meet up in Italy.
 There seems a lot of incapacitating fear around taking children out of the system here.
 Unschooling is relatively new as a concept in Italy.
 The use of the internet does not seem to be very present in the way kids homeschool/unschool in this country.
 There are a lot of Italian people who really want positive change for their children.
 It takes a lot of courage to step out of society and do something different.
 The group of Italian people I met spoke from the heart, and it was very moving to hear some of the stories as to why people had made massive life changes.
 It feels to me that the unschooling/homeschooling decision is made mainly from the heart.
 Trying to have a meeting on the beach is tricky as the wind carries your voice out to the sea and children sometimes flick sand in your face.
 It is better to be in community, than to try and do everything bravely on your own.
 Children love children.
 It had vaguely crossed my mind to let the kids draw on the four seater mechanic's car, but then I realised I am not that spiteful.
 My Italian is good but not as good as I would like it to be to really express myself well when talking to a large group of people.
 Children who are unschooled or homeschooled are polite, loving, curious, caring and very inventive. Especially when it comes to making money at their own market stalls.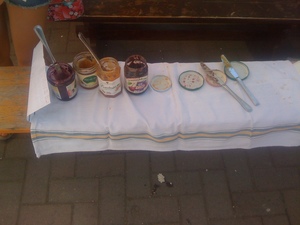  Parents need to support each other when making big decisions like unschooling or homeschooling.
 Life is so very short. Childhood is even shorter.
 I am grateful for all the people I met, for all the stories I heard and for all the contacts that I have made around unschooling in Italy.
 Deep in my heart, I feel we are doing the right thing for our kids.
 When we are fearless, we really can do anything.