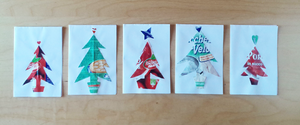 I really think that there is alot you can save money on at Christmas. I also think it is fun to step back and be creative.
I often look around the house before buying because squirreled  away somewhere are things that I can use and that I may have just forgotten were there! So before you go and buy ribbon, glue etc, look and see what you already have, you may be suprised.
If you do need to get stuff, just buy the basics like glue (we use a big thing of white wood glue, it is much cheaper and seems to last longer than Pritt Stick) some shiny ribbon and a little glitter, there is alot you can do with out spending a fortune. Also it is better for the environment. These little ideas below are not time consuming at all, they are quite simple, so have a look and see if any of them grab you!
Here are some fun Christmassey Creative Cost Saving ideas…
ONE
WRAPPING PAPER
Instead of buying all that wrapping paper, make it. Save all the colour supplements that go with the weekend newpapers, or any magazines, there are often great photgraphic images that look beautiful as gift wrapping. You tape the pages together and you can make big pieces of paper. If you start saving your magazines now you will have enough for Christmas. If you add ribbon, you can make gifts look beautiful. And unique. Any bits of paper work that are left over, when I spy a bit of paper I salvage it! Like this picture below, I salvaged this piece of paper from going in the fire we added a few spots and my daughter wrapped up this pressie with it.
TWO
THE CHRISTMAS TREE
Look around the place and see what you have and make your tree out of something different. Over the years we have made our trees out of all sorts of things. Ladders, tree branches, and this year we have made 2 trees, one out of boxes and one out of some fencing we found in the garage. The chances are that you already have the baubles and decorations stashed away somewhere. You can wrap lights around most things and they will look lovely. Below is a picture of Olive, Amari and Ant's Christmas tree in the making. See Olive's blog for the finished result!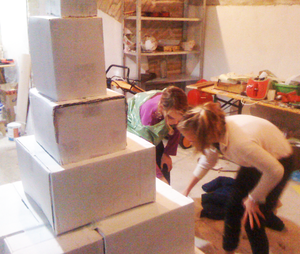 THREE
THE BEAUTY OF BROWN PAPER
If you don't have magazines, or run out of time. Buy brown paper. I am a big fan of brown paper, as it holds colour really nicely if you paint it. You can make stencils, out of anything really, plastic bottle tops for spots, or use your fingers to make colourful prints, or even a fork, or the end of a pencil, dip what ever you choose in acryllic paint and splodge away. Also doing this with kids is great. Make sure you have enough space and you can give each kid a few sheets of paper to do. Within no time you will have all your Christmas wrapping. You can stick with a Christmas colour range to make it feel Christmassey, like, reds, greens, and white, with a touch of gold and silver thrown in if you have it!
FOUR
CHRISTMAS GIFT TAGS
Find lovely images in magazines, there are also alot of lovely Christmassey images right now, so collect what you find. Then get the page and back it with white paper. Then cut out your tags, in all different shapes, squares, hearts, christmas tree shapes. Use a hole punch to make the hole in the corner. You can make lovely gift tags this way. These gift tags can also look lovely with the brown paper wrapping and ribbon.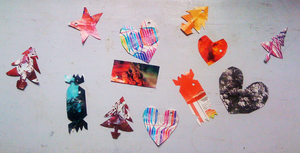 FIVE
CHRISTMAS CARDS
Make your Christmas cards. There are so many ways to make gorgeous Christmas cards. Even if you are just using normal paper and that is cheap, you can be very inventive with glue and scissors. This year I have taken off all the paper that comes on tins, so like tinned tomatoes, in fact I love some packaging, so I have looked at what ever packets we have in the cupboard and taken them, ie even the icing sugar packet got cut up and turned in to a Christmas tree. You can get fancy and put them on lovely gold card and get stickers etc. But I feel very satisfied if I can make something beautiful without spending a fortune in the craft shops and also I get the satification of recycling the paper.
I hope these tips help. Or at least inspire a little bit of making. For me this year I am actually thinking a little bit differently around Christmas and I don't want to get sucked up in to a spending frenzy. This year we are mainly making and recycling. I hope these tips can inspire you…And if you have any ideas, pass them on!!!  I wanted to share what I am making for the kids but I can't as they will see it on the blog!!
And if there is anything that is not clear, just ask me.
Happy making!