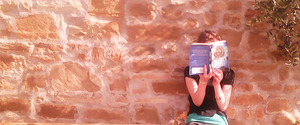 This is what I would I have told my worried self about reading and my children about three years ago. One of children was diagnosed with Irlen's syndrome and so I was very stressed about whether she would be able to read or not. As time went by she did. But here is a letter that I would have liked to have read as worrying  served nothing for me.
Dear Lehla,
Please stop it, stop worrying about the children's ability to read. Have more faith in them. You have been conditioned in to thinking that they should learn at a certain age. In this process of learning there is no thing as a certain age. You know this so stop worrying.
Here is what will help them read
Start having more faith in them
Stop worrying about them falling behind.
Know that falling behind doesn't exist. There is no behind, advanced, on target, there is just the present moment.
Read books yourself.
Leave books around.
Don't try to trick them in to reading, they are smart.
Let them play video games, where in order to do well at the game they have to read and write.
Read to them if they want you to. Put your fingers under the words if they ask you to.
Relax.
With love from,
An older version of
Lehla
The best thing that happened to us around reading was when one of our daughters, who was aged 10 at the time said to us 'Please can you stop worrying about me reading and actually, just leave me alone' I was aghast, mainly as I had thought I had done such a good job of subtly trying to help her to read. As I said before kids are clever. I had to admit to myself that I had been 'lightly' chasing her around in a 'I am not making you read' kind of way. There was nothing subtle about it.
So my husband and I stopped, it was not easy, it flew in the face of everything I had been taught. IE reading is something that is taught to you. She did not want me to teach her. She was asking us to have faith in her. We did.
She is now, at the age of twelve, reading non stop, she has novels lined up for the next few months, she reads them back to back. What is more, she loves it. The most we did (after we stopped chasing her around) was to say what the words were, once she spelt them out and that was that. It is the same for her twin sister, who seemed to find reading easier, they both read non stop.
Our son says he doesn't like reading, he may well not be a book worm and that is ok.  He is ten, I could panic but I don't. He says 'I will read when I can read' that to me is it. It is up me to have an inner leap of faith and to not listen to the scripted voice that holds a clock up to my childs learning. He says he can't read but for fun I write to him on Skype even if we are in the same room he instantly writes back.
But what if you child has dyslexia Lehla? I can't speak for other families who have dyslexic children and of course if support is needed then that is important. The point I am trying to make is about worrying, as I personally could have a degree in anxiety and I have found it of no use when it comes to supporting my childs learning.
But moreover I would say this to any child who is setting out on that beautiful exciting journey of reading. May reading for you be like a stepping on to fantastical boat, may it sail you through the sea of words and take you on a myriad of unexpected journeys. Even if the sea is sometimes choppy my wish is that you all get to where you need to get in your own time.
You can find more of Lehla's writing in 'Jump, Fall, Fly from schooling to homeschooling to unschooling' available here
And if you are interested in Lehla's illustrating for you can find here work here