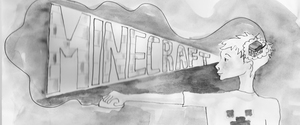 I love the way you have been so thoughtful and that the music that twinkles in the background when you are present is actually very soothing to my adult ear.
The way you guide my child through the land of the unknown, how you let him be the king of his world.
That he can say no to the walkers with white eyes and not let the creepers creep and that in peaceful mode I know that no one will get him.
I love the way that your square sun rises as my round one does and that my child is laughing at the snowman that gently sheds snow from his feet and that he says he can truly be himself when he plays with you.
And that he can shear a sheep within seconds and that his home made house, due to your square blocks could give Frank Lloyd Wright a run for his money.
I love that thanks to you he has to read. Now that the door in his brain has flung wide open, the words like seeds are free falling from this world and taking root in the soil of his fertile mind.
That he can plant flowers, build towers that hold flaming torches that suspend like ghosts, weightlessly in the air.
That he can swim without getting wet, wade through snow and admire and peruse his lands on a regular basis.
That he can speed through his nights and go to sleep for only 2 seconds and then greet the day once again as if the night was merely a blink or a short as a sneeze.
Minecraft, I love you so very much and I ponder on this…
At what point will your square world cease to fascinate my son?