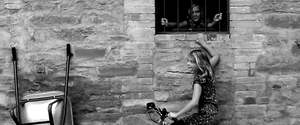 The other day we had another friend here (she is 12 and also an unschooler) and it was the kids turn to make lunch. The friend didn't want to make lunch, so neither did the kids. I was all hooked and triggered and so was Anthony, so he bounded in saying 'Well, if your friend doesn't want to make lunch she can go home' then I bounded in and talk to her and said ' I love having you here but if you want to be here, when you come you have to join in or else if you don't want to you can go home' It sounds terrible when written down and actually it sounds terrible either way. My point was if other kids are here it would be great if they could help out, it wasn't necessarily a valid point.
So I was faced head on by my 11 year old daughter, she had her hands on her hips and her face was twitching. She was calmly raging but being very cool and together on the outside and she very clearly stated. 'Let me just ask you something?' she said 'When your friends come here do you ask them to GO HOME when they don't offer to make lunch?' And I thought about it and she was waiting for the answer and I squirmed and said 'Well, in truth most of my friends that come for a while, to stay for a few days for example DO help with cooking and would I ask them to go home…Erm..?' I knew she was right actually. I went on to say 'I might talk to them about it…if they were staying for a long time…' She then said very clearly 'But would you send them home?' And I realised she was right, it was rude and aggressive and no of course I wouldn't act like that and I most definitely would not send them home. So I said 'Er No'
So, her point was, why should I assume that just because a friend is over they HAVE to help, they don't. So I went back and asked the friend if she would like to help and that it would be great but it is also fine if she doesn't and I really meant it. So in that moment it was about me and Anthony and our expectations.
So to me it is about being democratic and talking things through and giving the kids a voice. There is a downside, which is ultimately an upside, in as much as we have taught them to be strong and questioning and so sometimes when I just want them to do what I say it isn't that simple. Teaching your kids to have a voice means that THEY HAVE A VOICE. The old scripting doesn't work. When I am tired there are times when I want to just dictate from high and tell them how it is. But I have to catch myself and I stop. The truth is if I find that I am talking to them in such a way that I wouldn't talk to a friend or another adult then generally something is out of kilter. It makes it tricky when we are with the older generation some of whom are used to children being in a certain way, it must be blooming frustrating for them, but barking at our kids and giving them orders does not work.
Although we are by no means perfect in this regard, not at all… the other day I found myself barking at my son and said I would fine him a Euro if he did that high pitched scream again. He tends to do it when he sees a grass hopper, because in his opinion they are so random. It is a very loud.
I am trying to do the best as I can, it can be bumpy. What  I want more than anything is that when they are adults they will remember strongly that they have a voice, it is valid and that they have the right to be listened to.
A snippet from UNSCHOOLING THE KIDS.