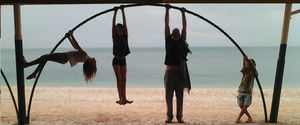 At midnight whilst driving on a toll road in Italy my husband gasps and say 'Oh No, I have done something terrible.' I wonder how bad can it be but by the depth of his gasp I know it isn't great. He pulls over and declares he has left his wallet on top of a petrol pump. It slowly dawns on me that we filled up the car two hours ago. We also both realize that all the cash cards are in his wallet and between us we have around nine euro. At that point I am convinced that our summer holiday is going to be on the edge of the highway and we are going to be trapped there forever.
We are not trapped forever as I manage to explain what has happened to the man tending the exit toll booth. He has clearly seen this before. We drive back two hours to the place where the wallet was. It had gone. The kids are half asleep in the car. One of our daughter's go in and out of sleep the other is mainly awake and our son knows nothing of the drama.
We realize we are luckily close to where my Dad lives, not very close but close enough. And at 3am when we drive there our awake daughter says. 'Daddy, could you please teach me the metric system?' and he says 'Sure' and I am thinking 'What, at this hour?' He proceeds to talk her through it and she repeats it all back to him. It goes on and on. We head for my Dad's house. We arrive and we do our best not to sound like robbers. Sounding like robbers, we sneak up to the front door and stroke the cats, who are really happy to see us. We ring the bell twice. I feel that sort of horrible late night out of control humiliation as I am a grown up at my Dad's house with nine euro and that sinking feeling of guilt as I know that one of those credit cards should have been in my wallet. I embrace the feeling of crap daughter/dreadful mother-ness then tell myself I will feel better in the morning and that nights make things bigger than they actually are.
My Dad and his partner let us in, and as only my Dad can, he seems to find it funny and cracks a few jokes and is ultimately pleased to see us, all be it at a weird hour.
Throughout this chaotic out of control journey I think about how the refugees must feel coming from Syria to Europe or from any war torn countries. I realize that my problems are so unbelievably minor and how lucky I actually am and how incredibly strong those people must have to be for their families.
Ants mishap made things awkward but we were really fine. What happened was really a consequence of a very tired parent and the fact that things happen, we all lose things at some point. When my husband was at his lowest ebb he managed to rise like a phoenix from the ashes and he calmly taught our daughter precisely what she needed to know at that given moment. The metric system. It will be that that I remember from that journey down South to Puglia and the fact that learning really happens all the time, even when you are way past your sell by date at 3am in the morning.