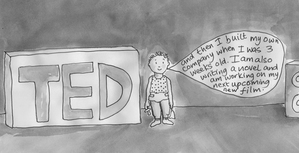 We as of yet have no self-sustaining organic garden, our kids don't know quite how to fashion wooden spoons out of a tree nor how to stick then roast an organically farmed pig. They are not musical geniuses that we know of, yet, and they have not started their own companies at the age of eight, which they are now floating on the stock market. These are not our kids, our kids may end up doing all those things who knows but right now, they don't.
Now this is such an interesting topic for me as I put myself on the line and question the way I show up all the time. I am tempted to help my kids be able to public speak, there is a part of me that would love them to feel that they could address a room at a Ted X talk on unschooling or even hackschooling. Why? Is that me or them? There is part of me I hate to admit, that is most likely a competitive parent. But then perhaps it is in our genetic make up, perhaps I should be more gentle on myself, perhaps that is how we have survived all these years, perhaps way back, when I was sitting in a cave with my loin cloth on and picking at my nits (no change there) my neighbour said to me said 'Ooh you think that the rabbit that your children have caught is big? Look what my little Johnny got for the pot, he is so good at hunting!'.
There are stories of kids who are  blacksmiths at the age of 14, have become pop stars, (ok if you just clicked on that maybe she is a bit of an exception, this beautiful girl is from a very famous family) There are kids that have their own have their own companies like this amazing young lady. Our friends kids learnt to play the accordion in three weeks (I have had a concertina for 20 years and I play it how I played it 20 years ago, badly) I do believe kids fly given the tools and the support, I really do.
But another question I ask, and I ask this from a mother's point of view, is how do you know when you are doing the right thing, nurturing the right interest?  When Ken Robinson does his wonderful talks on creativity he often mentions how the mother's took their kids into a sport's gym and then everything changed from that moment on, the child's life completely transformed. Or he would say something along the lines of, she was there with her mother. She took her to see a specialist, who saw that when they stepped out of the room the young girl was moving to the music and from then on she knew she was a dancer and she became one of the world's best choreographers. There are often these magical instinctive mothers in the background being witchy and supremely clever and generally getting it perfectly right.
So that leaves me with the feeling of erm oh er, overwhelm…
Then the other question I ask is, what is this getting it right bit? And I quiz myself do I show off my children's acheivements and show that I think we are getting it right because I want to prove to the world that kids learn brilliantly without school? Possibly.
If I were sending my kids to school and was really interested in unschooling or home schooling would I be totally put off and intimidated and a bit bored by all the posts out there that say how incredible and successful unschooled children are?
We stepped out of traditional education for many reasons but one of the main reasons was the constant competition, tests, scores, pressure and it is interesting to me to see that it seems that it can show up also in the world of unschooling and home schooling but maybe it has just mutated…
Then I wonder how my kids feel when I show them a video of an incredible child doing something, well, incredible. I asked them and they said 'It makes me want to do amazing things' 'It is inspiring' and 'I like it' so they don't seem to have a problem with it. I see the brilliant kids and parents out there doing their amazing stuff and I also know that it is wonderful when they shine, all kids shine to me, so I say, 'Shine on kids, you are our inspirations'.
But maybe the most important question that I would ask myself as a parent is, how can I best help my kids be fully themselves and happy with who they are in the world however they show up. Hopefully in this way all the answers will fall in to place and their lives will unfold exactly as they should.